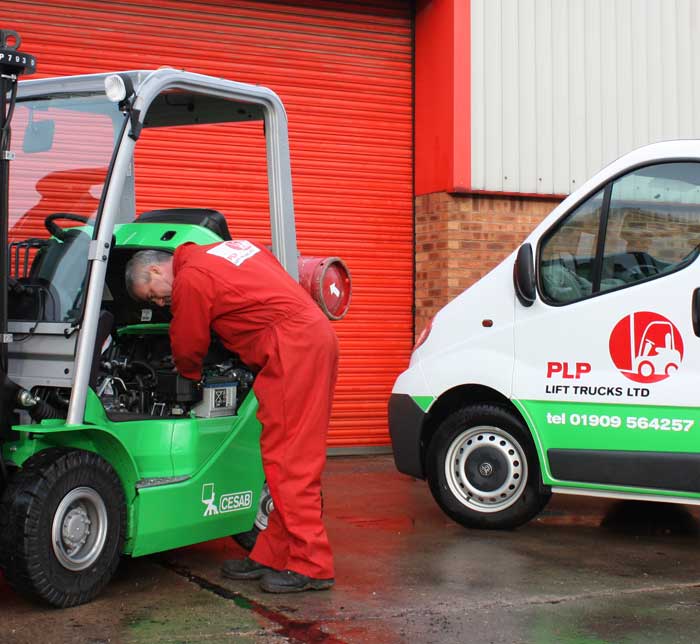 Breakdowns, Repairs and Refurbishment
Even with regular servicing, over time your materials handling equipment can start to show its battle scars. At PLP Lift Trucks Ltd, we offer cover for breakdowns, scheduled repairs and refurbishments of all makes and models of materials handling equipment.
From receiving a call to inform us that your forklift has broken down, we always aim to be on site within 4 hours.
When it comes to repairs and refurbishments, we can carry out anything from a detailed mechanical inspection and a new coat of paint right up to a complete strip down and rebuild, we can have your forklift or other equipment looking as good as it performs. To find out more or to discuss your particular refurbishment requirements give us a call on 01909 564257 or click here to email us using our contact form.
From phoning through a breakdown to our service department, we aim to have an engineer on site within 4 hours. Contact us today to discuss fixed hourly rates.
We can provide you with a quotation to carry out any work that is required on your forklift.
We offer different levels of refurbishment, from making the truck look nicer in terms of paintwork to a complete strip down and replacement of parts.
Servicing and Scheduled Maintenance
At PLP Lift Trucks Ltd, we offer full service support on all type of lift trucks and warehouse equipment by factory trained engineers at your premises, or at our modern purpose built workshop in Dinnington, Sheffield. During our services, we pay thorough and close attention to the braking system, the steering system, the tyres, mirrors and other fittings, the windscreen, any warning devices, steps or walkways, pipes, hydraulic hoses, rams, lifting systems, just to name a few. Whether you operate a mixed fleet or otherwise, PLP Lift Trucks Ltd have a service program designed to maximise your productivity.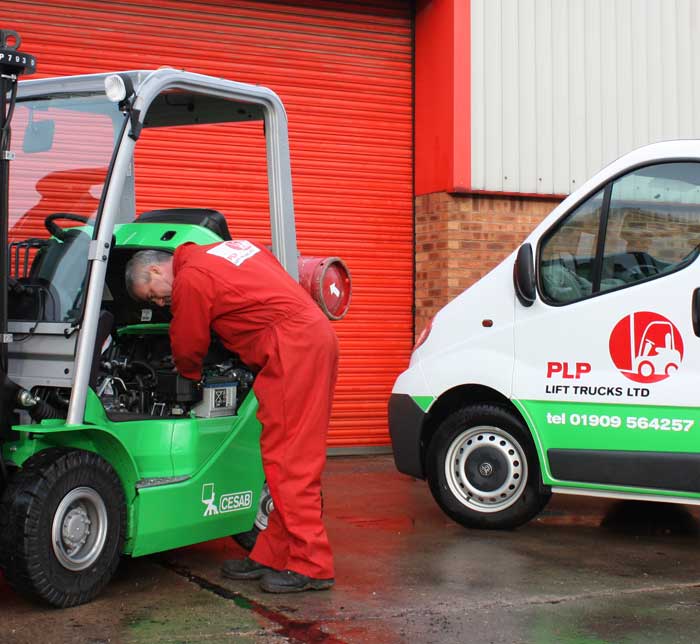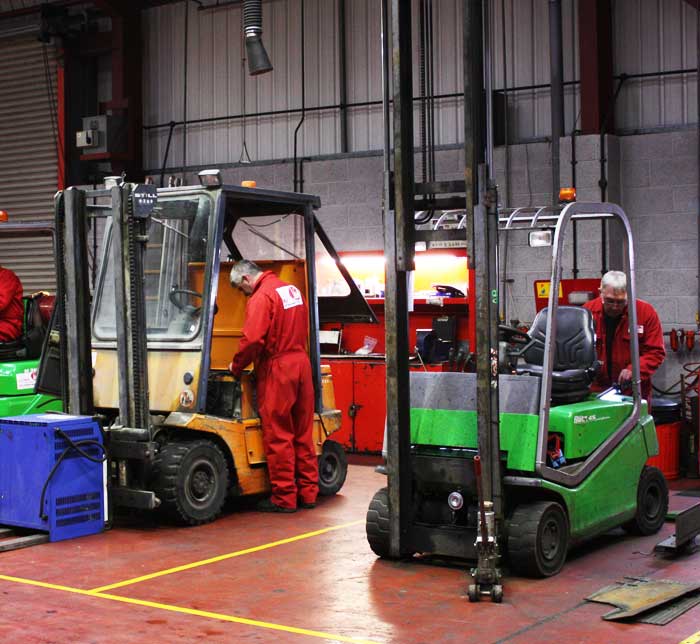 Thorough Examinations (LOLER 98 and PUWER 98)
By law, lifting equipment must be Thoroughly Examined at appropriate intervals (at least annually) to make sure it is safe to use – this includes lifting gear on forklift trucks. The Thorough Examination should always be carried out by a 'competent' person. At PLP Lift Trucks Ltd, all of our engineers are competent and we carry out Thorough Examinations on a daily basis for our customers.
You are responsible! Whether you own your forklift or simply hire it, the law demands you hold a current Report of Thorough Examination. You are responsible. You face the consequences of failing to comply, including the risk of prosecution, hefty fines and invalidated insurance cover.
A Thorough Examination is no place to cut corners. Which is why the two main bodies in the forklift truck industry – working with the HSE – have developed the definitive national scheme, administered via CFTS. With a CFTS Thorough Examination, you receive clear and comprehensive documentation, underpinned by uniformly high quality standards that comply fully with both LOLER 98 and PUWER 98 legislations.
At PLP Lift Trucks Ltd, we offer a discounted rate when a Thorough Examination is carried out at the same time as a Service.

Call us on 01909 564257 for details.