Local Service, National Support
At PLP Lift Trucks Ltd, we are the first choice for materials handling equipment in South Yorkshire and Nottinghamshire. At PLP Lift Trucks Ltd, we offer you the convenience of a local materials handling equipment dealer backed up by a leading European manufacturer. Since 1972, we have grown through the same philosophy that we stand by today. Firstly by offering a wide range of high quality products. Secondly by delivering outstanding levels of customer service and support. Thirdly, by offering unrivalled after sales support. Today we offer you a complete materials handling solution, including:
New Cesab forklifts and warehouse equipment
Used materials handling equipment
Accredited Driver Training
Whether you are looking for advice on the best choice of materials handing equipment, need short or long term hire, or servicing and repairs we are here to help.
To find out more give us a call on 01909 564257.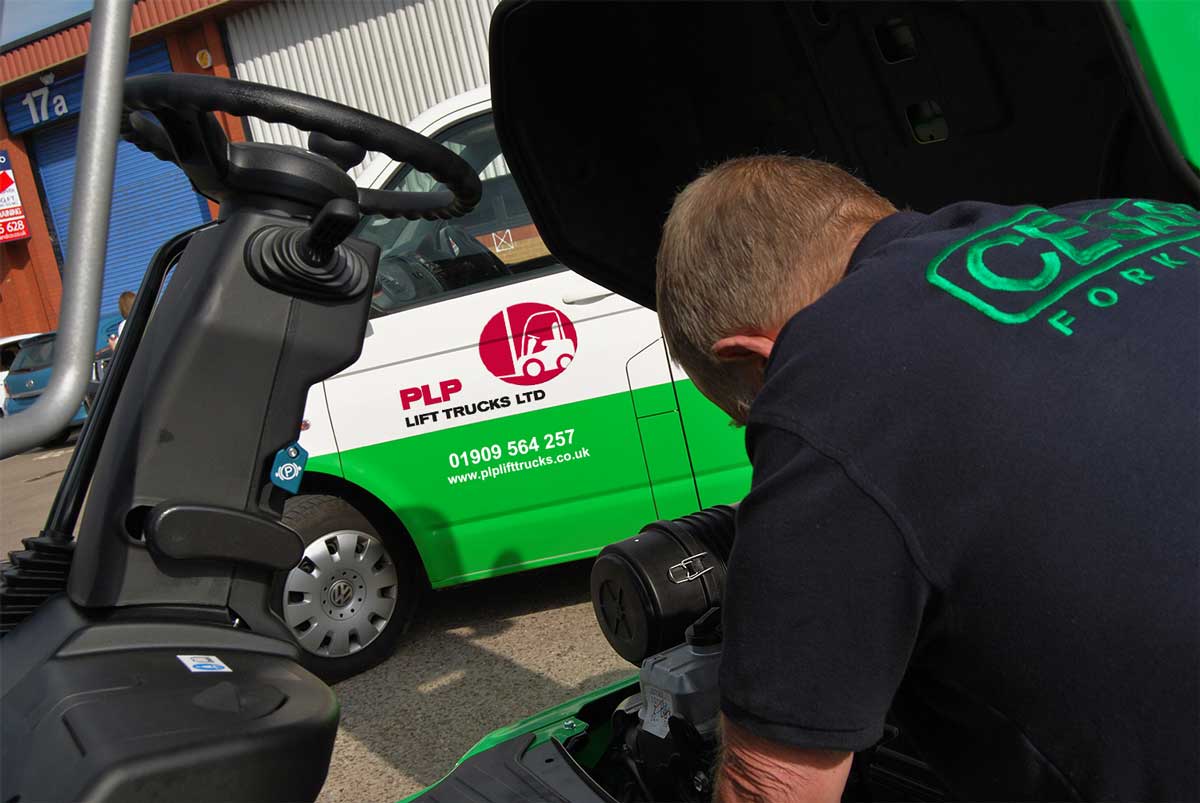 Personalised, local service tailored to your business
We understand that down time not only affects your bottom line, it also affects your hard earned reputation. With a purpose built service facility in Dinnington, Sheffield, and a team of fully qualified mobile service engineers, we are ideally located to deliver a rapid response to businesses across South Yorkshire and Nottinghamshire. Our customers always deal directly with us – never a call centre – and all of our engineers carry the most common consumable parts, allowing them to resolve most problems in a single visit.
Not only are we an authorised Cesab dealership and service centre, we also have a wealth of experience with Mitsubishi and other manufacturers (Toyota, Linde, Hyster, Yale, Flexi, Lansing Bagnall, BT, JCB, Aislemaster and Combilift, just to name a few). So even if you operate a mixed fleet, you can be sure we'll get you up and running again in no time.
To find out more give us a call on 01909 564257.
Don't take our word for it! Here's what our valued customers have to say..
"The service received from PLP Lift Trucks Ltd from day one was exemplary. We were advised on which forklift would be suitable for our application and we were given test-runs with the various options available before committing. Once we had made the decision to lease a forklift, we took delivery of a Cesab Drago 200. The training package and follow up services were excellent and after using our Cesab forklift, we now work more efficiently and safely thanks to the help of PLP Lift Trucks Ltd."
"We have worked with PLP Lift Trucks Ltd since 1998 and are about to take delivery of yet another new truck, continuing a long-term partnership between our two companies. PLP Lift Trucks Ltd continue to provide us with good trucks, and a professional, friendly service that we both have confidence in and can trust. "
"Dear PLP, I would like to personally thank your team for the service I have recently received on a breakdown, as this was no regular breakdown and required a great deal of organisation and planning to get me operational again. The level of service for us was "excellent "and would highly recommend PLP to any company looking for a Forklift service and sales agent. Thanks to you all."
"Howco Group PLC and PLP Lift Trucks Ltd have an established relationship spanning over 10 years. Recently, we have taken delivery of a replacement fleet of side loaders and will continue with the excellent service we have come to expect."
"PLP Lift Trucks Ltd have continually, over a long period of years, met the demands of our Materials Handling Equipment, through the ever-changing business environment. Even with a fleet in excess of 40 forklifts, PLP Lift Trucks Ltd have always strived to achieve and meet all of our needs, however diverse; ranging from modified powered pallet trucks to twelve-tonne counterbalance forklifts. We are provided with excellent Service and Thorough Examinations for all of our forklifts and we look forward to continuing our relationship with PLP Lift Trucks Ltd."
"As a company who use forklifts on a daily basis, we need a company who can give us a quick response when breakdowns occur, and we have this in PLP Lift Trucks Ltd. They give us excellent service when called upon. Servicing on our trucks is to a high standard, using original parts where required and only fitting new parts when the old cannot be repaired. Having hired a Cesab M330 forklift from PLP Lift Trucks, this has been a revelation to our company; the reliability of this truck is second to none. If you require a company to keep your forklifts serviceable and reliable then PLP Lift Trucks Ltd are the company to rely on."
"PLP Lift Trucks Ltd have provided counterbalance and reach truck equipment to our site for the last twelve years. Having purchased two Cesab M315G's, a Cesab P220 and a Cesab B215 recently, PLP Lift Trucks Ltd have provided us with continuous support in terms of training and equipment servicing to allow our lifting needs to be met. They continually provide us with support and solutions during the equipment procurement process to make sure we get the right equipment for our purposes. The team demonstrate a positive can do attitude and their customer service is second to none. I am delighted to be able to provide this testimonial for their team."
"We have recently purchased a second hand Mitsubishi FB18KT/AC from PLP Lift Trucks Ltd and we are delighted with the service. The unit was delivered early and in excellent condition – we could not be more satisfied and would recommend PLP Lift Trucks Ltd to anyone looking for a reliable forklift truck supplier."
"Before we met PLP Lift Trucks Ltd, we'd bought forklift trucks directly through the manufacturers, but have found the support limited, with no direct relationships and a call centre as our main contact point. PLP Lift Trucks Ltd are local to us and we know their people. I knew that they would offer better support and continuity; from helping us choose the right equipment to responding to our needs once the forklift trucks were in use. We now have two Cesab M300's in use across our site which are used for loading, unloading and transporting titanium castings through the site five days a week. Cesab is bringing high quality and efficient material handling support to our operation and is making a significant contribution to our increased production targets."
"We have been very satisfied with the service provided by PLP Lift Trucks Ltd in the past and now we have received our Cesab B215, we are confident that it shall continue. We are very satisfied with our new truck and hope it serves us as well as the last one from PLP Lift Trucks Ltd. Also, I have to say that in the past when we have needed assistance, PLP Lift Trucks Ltd were very prompt in their response."
"Our new Cesab M325D is everything you said it would be – and more!"
"We have been hiring a forklift truck from PLP Lift Trucks Ltd for 15 years and have always had excellent service, a very prompt response to breakdowns and very competitive prices"
"I cannot overstate Torne Valley's satisfaction with PLP Lift Trucks Ltd. From our first enquiry regarding truck replacement plus servicing of our existing machines, we have felt that the emphasis given to customer care is a top priority. We look forward to working with the PLP team in the future and cement what is already a trusting and professional relationship."
"Fantastic service from start to finish. From our initial enquiry to having a brand new machine on site within a couple of days, we couldn't recommend PLP highly enough. First class!"